01 SPECIFICATIONS
RAXTENT has been producing glass dome tents since 2017, the glass dome tent can be customized from 4M to 20M. We have many cases all over the world.
The case is our 10M glass dome tent in the USA.
The 10M glass dome house is a unique and innovative half-sphere structure that provides a breathtaking view of the natural surroundings. The house is built entirely of glass and has a diameter of 10 meters. The dome shape allows for maximum sunlight to enter the space, making it bright and airy.

Size: 10m in diameter, 5m in height, with an indoor area 79 sqm. 
Color: The 10 glass dome house is transparent, color can be customized, such as blure, green, yellow, and so on.
Material: The frame is made of aluminum alloy, the surface is covered with hollow tempered glass.
Capacity: The 10M glass dome house can hold bedroom, living room, bathroom, kitchen, as a five star house.
Accessory: The glass dome house accessory includes a glass door, windows, luxury curtain, platform wood floor, etc...
Wind and Snow load: The glass dome house with a sturdy structure has a wind load of 120 KM/H and a snow load of 75 KG/SQM.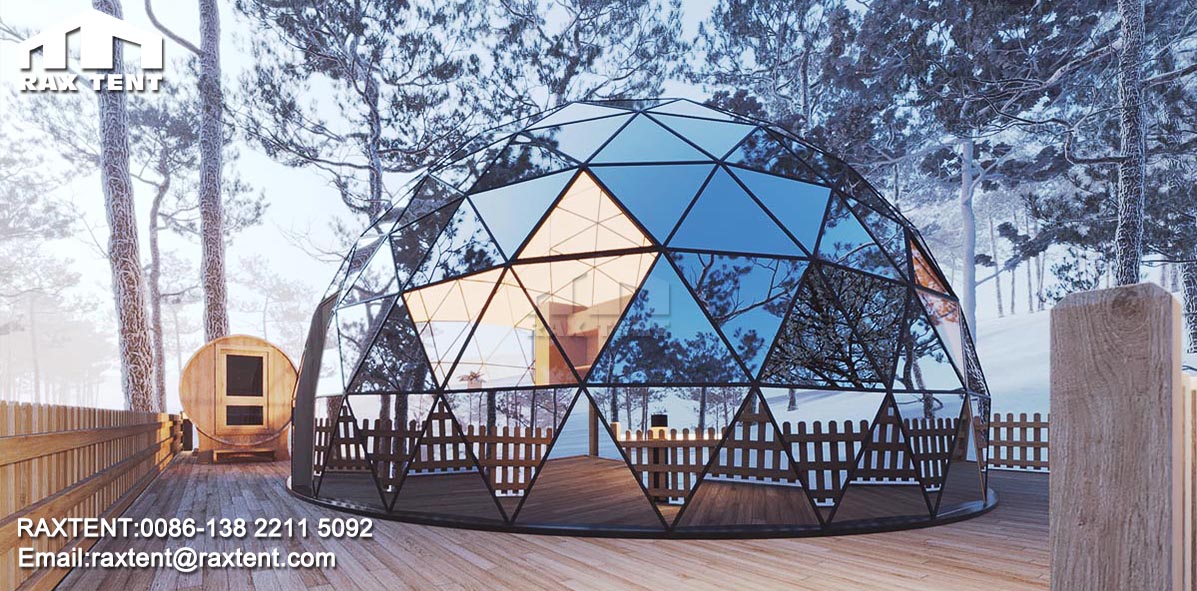 RAXTENT keeps improving each product and produces high-quality products with high-quality materials. And we have cooperated with our raw material manufacturers for many years, the quality of the product can be guaranteed.
Good Thermal Insulation
The glass dome house is equipped with good thermal insulation, which helps to keep the interior warm during the winter months. The surface of glass domes is covered the hollow tempered glass, which has good tightness that is designed to trap heat inside the house and prevent it from escaping. At the same time, the solid structure also makes it very safe in winter.
Heater in Winter Domes
In addition to the insulation, the glass dome house is also equipped with a heater that provides additional warmth during the winter months. The heater is energy-efficient and can be controlled remotely, ensuring that the house is always at the perfect temperature.
Spacious Space
The glass dome house has ample space and can accommodate a family comfortably. The interior is well-lit, and natural light floods the house, making it feel bright and airy. The glass walls also provide a clear view of the surroundings, making it an ideal place to relax and unwind.
03 How to Install
Glass dome house installation is easy, we will provide detailed installation instructions and video to help build, but also real-time guidance. If you have any questions, ask to us and we will help you.
04 Production Process
RAXTENT has been producing products according to high standards, from design, production, packing, to delivery, every step is strictly treated to provide clients with high-quality products.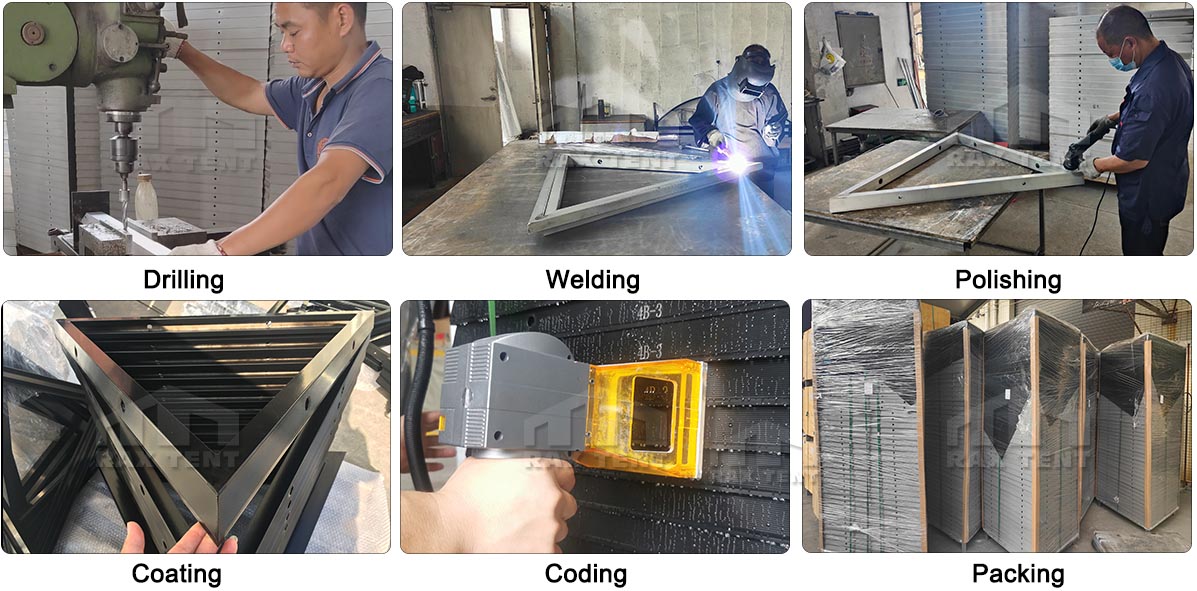 05 CUSTOMER RECOMMEND
RAXTENT has been operating in the tent industry for more than 10 years, we have a professional team, providing professional product design, manufacturing production, sales, installation and other one-stop services. We produce high-quality tent products and serve every client with heart. Welcome to sending inquiries to us.
Customer Recommend
Thank you Raxtent, the glass dome house is beautiful. Thanks to the RAXTENT team, the dome installation went very smoothly.
I recommend RAXTENT!