01 SPECIFICATIONS
The glass pyramid tent is the exclusive patented product of RAXTENT, which is usually used in outdoor glamping, tourism, leisure, and other places. Its appearance is unique, elegant, and generous, very suitable for use in beautiful natural environments. The interior of the glass pyramid tent adopts a multi-functional design, which can have multiple functional areas such as bedrooms, living rooms, and bathrooms.
The material of the glass pyramid tent is high-end aluminum alloy and high-strength tempered glass, which has the effects of 100% waterproof, windproof, fireproof, and sound insulation. The characteristics of the glass cover can also allow people to fully enjoy the outdoor beauty and sunlight indoors.

Size: The glass pyramid tent is 7m(23ft) in diameter and 49sqm(527sq ft),  4.6m in height.
Material: The main material of glass pyramid tent is made of aluminum alloy and cover with tempered glass.
Feature: The glass pyramid tent is100% waterproof, fireproof, thermal insulation and soundproof, suitable for glamping hotel tent and resort. 
Accessory: The glass pyramid tent accessory including glass door, glass window, insulation layer, curtain, bathroom, etc.. 
Wind and Snow load: The glass pyramid tent windload is 100KM/H and snowload is 75KG/SQM.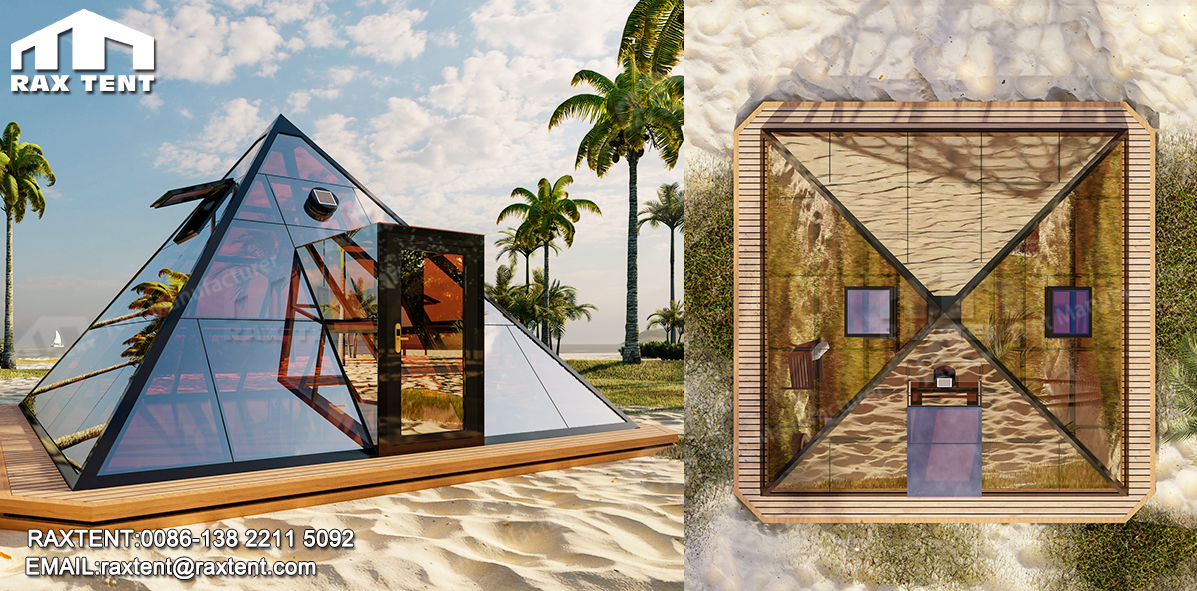 RAXTENT keeps improving each product and produces high-quality products with high-quality materials. And we have cooperated with our raw material manufacturers for many years, the quality of the product can be guaranteed
.
Glamping Hotel
The glass pyramid tent adopts a special triangular shape, and the combination of simple lines and perfect proportions forms a uniquely aesthetic atmosphere. The glass pyramid tent is very suitable for use as a glamping hotel, set up in places with beautiful scenery such as the seaside and grasslands. Its unique shape also attracts many curious tourists.
Comfortable Living
Living in the glass pyramid tent is a very unique experience. The transparent glass wall allows tourists to have a 360-degree view, and enjoy the surrounding natural scenery. At the same time, the pyramid house has modern facilities, so that tourists can enjoy comfort and convenience like home when camping in the wild.
Environment Friendly
The glass pyramid tent hotel is mainly based on the concept of environmental protection, chooses environmentally friendly and reusable materials, and minimizes the impact on the environment. The glass pyramid has a simple structure and can be quickly installed and built without damaging the surrounding environment, and the strong structure keeps people safe outdoors.
03 INSTALLATION
We have detailed installation instructions and installation videos for each product, and we also have a professional engineering team, we can solve any problems for you at any time.
04 CUSTOMER RECOMMEND
RAXTENT has been operating in the tent industry for more than 10 years, we have a professional team, providing professional product design, manufacturing production, sales, installation and other one-stop services. We produce high-quality tent products and serve every client with heart. Welcome to sending inquiries to us.
Customer Recommend
I love this pyramid house so much, live in here wo can embrace the nature, and I can stay in the tent house softly and enjoy the outdoor scenery, it's so great.
I recommmend RAX TENT!