01 SPECIFICATIONS
The PVC geodesic dome tent is one of the most popular products for glamping hotels, its unique and beautiful shape is perfectly integrated into the local environment. In order to further enhance the living experience, we redesigned a new style of the glass dome tent, which has a similar appearance to a PVC dome tent, the transparent part is used for viewing scenery and the white part is used for decoration. The domes' materials are more high-end and have more than 20 years of lifespan.
The white glass dome tents are made of high-strength aluminum alloy, not easy to deform and anti-rust, and the surface is covered with hollow tempered glass and white solid panels to enhance the safety and comfort of living.

Size: 6m in diameter, 3.5m in height, with an indoor area 28 sqm. 
Color: The new design glass dome tent is white, similar to the white PVC dome tent.
Material: The frame is made of aluminum alloy, the surface is covered with solid panels and tempered glass.
Capacity: The 6M glass dome tent can hold 2-4 people, 1-2 beds, and a separate bathroom.
Accessory: The glass dome tent accessory includes a glass door, windows, luxury curtain, platform wood floor, etc...
Wind and Snow load: The glass dome tent with a sturdy structure has a wind load of 100 KM/H and a snow load of 75 KG/SQM.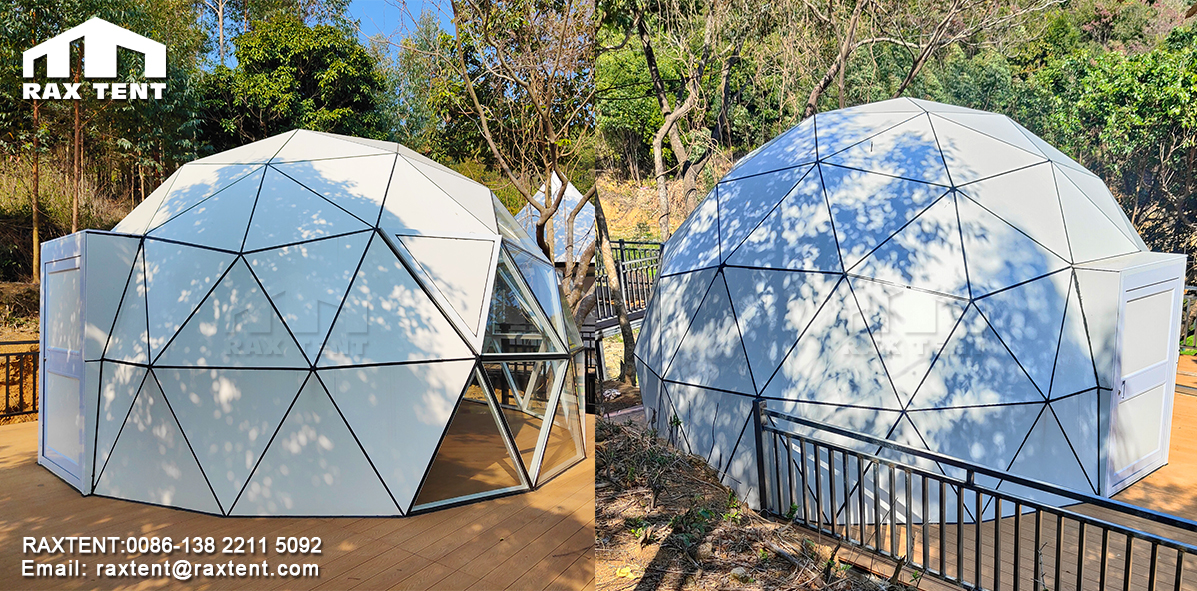 RAXTENT has been constantly innovating and upgrading our products, exploring new materials to enhance product functionality, meet the needs of clients, and help clients create higher value.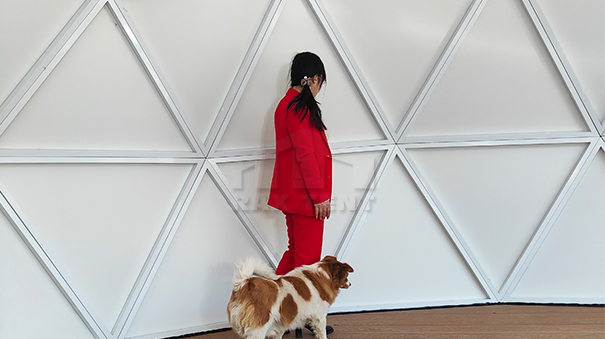 White Cover of Domes
The white part of the dome cover is made of thick solid panels, durable and sturdy, it has good performance in keeping privacy, blocking out the sunlight, and keeping thermal insulation, this material can save energy for you when you are outdoor glamping, and is environment friendly. Besides, the solid panel serves as a decorative element with various color options.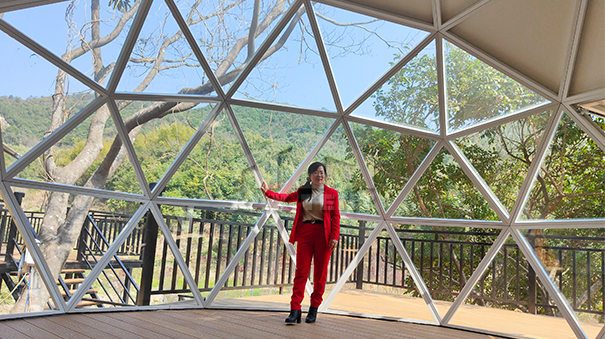 Glass Cover of Domes
The transparent part is made of hollow tempered glass, 100% waterproof, fireproof, soundproof, and noise resistant, bringing in natural light and enhancing indoor light, while serving as a viewing area to provide guests with a clear and bright view. Not only that, the tempered glass is easy to maintain, can be cleaned with water, it is simple and convenient.
Installation of Domes
The installation of the white glass dome tent is easy and fast, assemble the frame piece by piece according to the drawing, forming a half-sphere, and then covered the surface with solid panels and tempered glass, finally sealed and fixed the cover with glass glue. The glass dome tent adopts a modular design, which is simple and convenient to install, and also easy to transport outdoors for clients.
03 How to Install
Glass dome tent installation is easy, we will provide detailed installation instructions and video to help build, but also real-time guidance. If you have any questions, ask to us and we will help you.
04 Production Process
RAXTENT has been producing products according to high standards, from design, production, packing, to delivery, every step is strictly treated to provide clients with high-quality products.
05 CUSTOMER RECOMMEND
RAXTENT has been operating in the tent industry for more than 10 years, we have a professional team, providing professional product design, manufacturing production, sales, installation and other one-stop services. We produce high-quality tent products and serve every client with heart. Welcome to sending inquiries to us.
Customer Recommend
Thank you Raxtent, the glass dome tent is great, and this time I invited to Raxtent's professional engineers to install it, the whole installation process was no worries and the overall effect was stunning.
I recommend RAXTENT!