01 SPECIFICATIONS
RAXTENT is committed to providing high quality tent products for clients. The glass and PVC mixed geodesic dome tent is our exclusive product, and is the ideal choice for clients who want to have as same viewing effect as the glass dome tent and durability, but with a limited budget. The mixed glass dome tents combine the double advantages of classic geodesic dome tents and tempered glass, which is not only thermal insulation and diaphragmatic but also soundproof. Practicality and cost-effectiveness are the most advantages of all tent products.

Size: The mixed glass dome tent is 6m(20ft) in diameter and 28sqm(301sq ft),  other size can be customized.
Material: The main material of mixed glass dome tent is made of  termpered glass, PVC fabric, aluminum alloy and galvanized steel.
Feature: The mixed glass dome tent is100% waterproof, fireproof, thermal insulation and soundproof, suitable for glamping hotel tent and resort. 
Accessory: The mix glass dome tent accessory including glass door, glass window, PVC window, insulation layer, curtain, bathroom, etc.. 
Wind and Snow load: The mixed glass dome tent windload is 100KM/H and snowload is 75KG/SQM.

RAXTENT continues to develop new tent products and use high-quality materials, to provide tent products with high-quality and cost-effective for clients.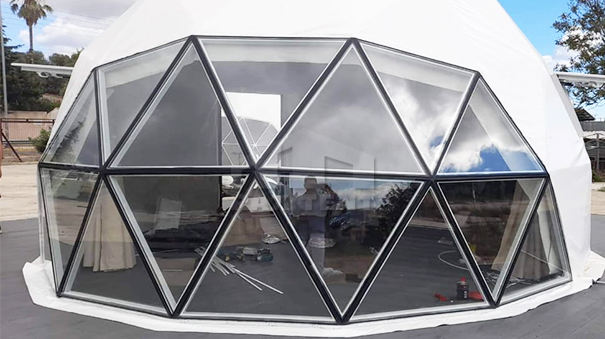 Tempered Glass for Scenery
The transparent viewing of PVC and glass mixed dome tent uses as same practices as high-end glass dome tents, which are made of aluminum alloy for skeleton materials and tempered glass, tempered glass is not only has an open and clear vision, but also has good thermal insulation and soundproof, more safety and more durable outdoors.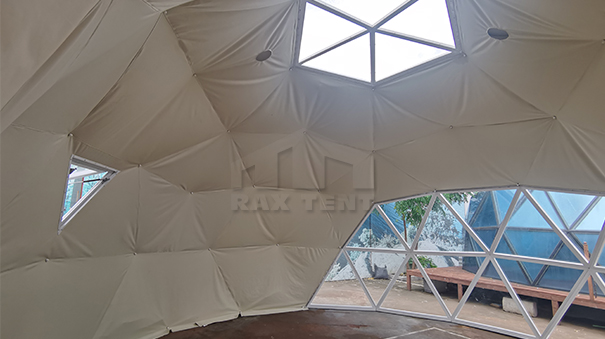 PVC Cover of Dome tent
The non-transparent part of the PVC and glass mixed dome tent is made of classic 3-layer thermal insulation film material,PVC fabric, aluminum foil and oxford fabric lining which has better thermal insulation and shading effect, reduces indoor energy loss, and is more environmentally friendly and convenient.
Cost Effective Dome Tent
Our mixed dome tents have a longer use cycle, the maintenance is convenient and easy, easy to clean and easy to change the cover, use-cost is lower and cost-effective, and provide more options for tent camps. At present, the market recognition of mixed dome tent is very high.
03 MANUFACTURE DATA
In order to give clients the best products, RAXTENT process the material with multiple precision process, we will install the product to ensure stable product quality before delivery.
04 CUSTOMER RECOMMEND
RAXTENT has been operating in the tent industry for more than 10 years, we have a professional team, providing professional product design, manufacturing production, sales, installation and other one-stop services. We produce high-quality tent products and serve every client with heart. Welcome to sending inquiries to us.
Customer Recommend
I love this mixed dome house so much, live in here wo can embrace the nature, and I can stay in the mixed dome tent softly and enjoy the outdoor scenery, it's so great.
I recommmend RAX TENT!