01 SPECIFICATIONS
RAXTENT has many successful cases about the glass dome tent, widely used for glamping hotel tents, the backyard garden and sunroom, restaurants and coffee shop and events. At present, RAXTENT glass dome tent has been exported to more than 100 countries.
RAXTENT glass dome tent is easy to install. In this case, our glass dome tent is installed over the river and covered with mirror tempered glass, the overall effect is stunning, which attracts a steady stream of tourists.

Size: The glass dome tent is 6m in diameter and 28sqm(301sq ft), other size can be customized.
Material: The main material of glass dome tent is patented industrial aluminum alloy 6061T6/T5 and covered with mirror tempered glass. 
Feature: The glass dome tent is100% waterproof, fireproof, cost-effective solutions for glamping hotel tent and resort. 
Accessory: The glass dome tent accessory including glass door, bathroom, wood floor, platform, luxury curtain, etc.. 
Wind and Snow load: The glass dome tent windload is 100KM/H and snowload is 75KG/SQM.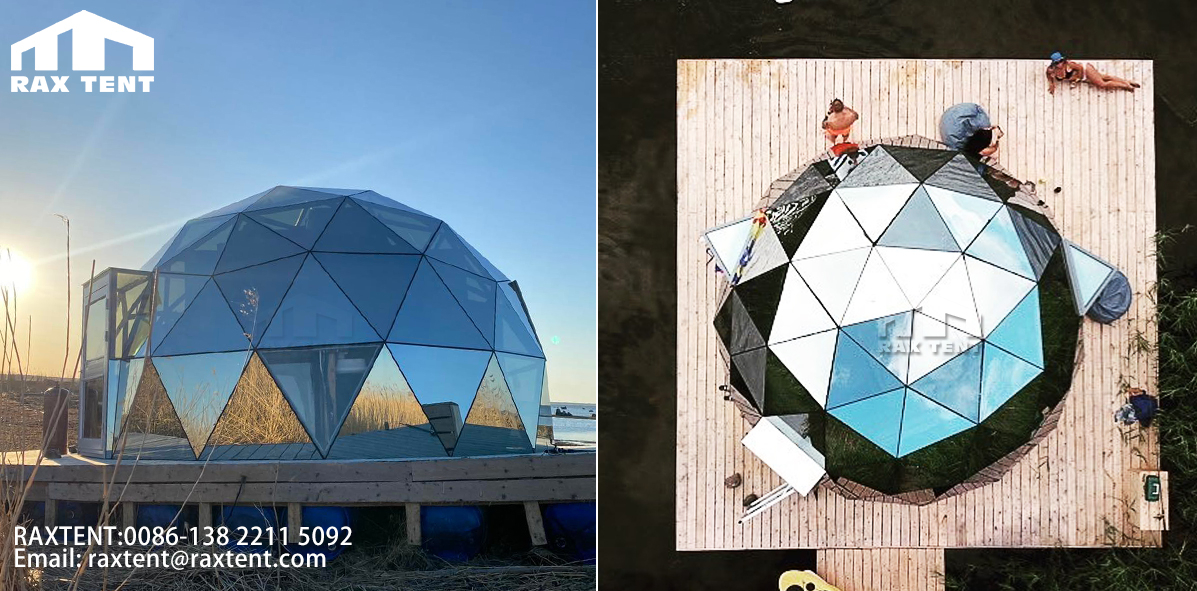 People are eager for nature, but people don't want to give up comfort and delicious. In order to meet the needs of tourists better, glass dome tents are a great choice which have better software and hardware facilities, this also is the key to enhancing the core competitiveness of the camp.
Glass Dome Tent Structure
The 6M glass dome tent is a special half-spherical mesh structure, and has high strike resistance, due to its special structure and combined with an aluminum frame and tempered glass cover. The glass dome house span life of at least 15-20 years, and its price is a fraction of the cost of a traditional building, the glass dome house is very cost-effective.
Glass Dome Tent Cover
The 6m glass dome tent is covered with blue mirror glass which is like looking in a mirror, people can clearly see their faces in the mirror glass, but it also can make outside people can not see the inside, and inside people can see the outside clearly unobstructed.
Glass Dome Tent Accessory
Don't worry about sunlight entering the dome through the glass and affecting the rest, and can't protect privacy, RAXTENT can provide 270-degree and 360-degree surround luxury curtain, and other size is can be customized. We also has other accessories for options, wood floor, bathroom, thermal insulation.
03 MANUFACTURE DATA
RAXTENT has professional designers and engineers, every glass dome house is precisely designed and strictly tested to ensure the high quality and performance of the glass dome house.
04 CUSTOMER RECOMMEND
RAXTENT has been operating in the tent industry for more than 10 years, we have a professional team, providing professional product design, manufacturing production, sales, installation and other one-stop services. We produce high-quality tent products and serve every client with heart. Welcome to sending inquiries to us.
Customer Recommend
I love this glass dome house so much, live in here wo can embrace the nature, and I can stay in the glass dome tent softly and enjoy the outdoor scenery, it's so great.
I recommmend RAX TENT!