01 SPECIFICATIONS
RAXTENT has been focusing on the hotel tent industry for 10 years, and our tent products have been exported to more than 100 countries and are loved by our clients. RAXTENT has various of tents, such as prefab houses, glass dome tents, geodesic dome tents, glass pyramid tents, etc. The prefab house is a new product of RAXTENT, which is like a space capsule, full of mystery and full of technology. The prefab house is equipped with utilities, software, hardware, and decoration, which can allow clients to fast to live in and have a good living experience.

Size: The prefab house is 38sqm(409sq ft), 11.5m(37.7ft) in length, 3.3m (10.8ft) in width, and 3.2m (10.5ft) in height,
Material: The main material of prefab house is made of  hot-dip galvanized steel. 
Feature: The prefab house is100% waterproof, fireproof, thermal insulation and soundproof, suitable for glamping hotel tent and resort. 
Accessory: The prefab house accessory including smart control panel, ceiling light strip, automatic curtain, fresh air, AC, etc.. 
Wind and Snow load: The glass dome tent windload is 100KM/H and snowload is 75KG/SQM.

RAXTENT prefab house allows clients that don't need to spend time and money to install it, don't need to consider how to decorate, and don't need to worry about its function.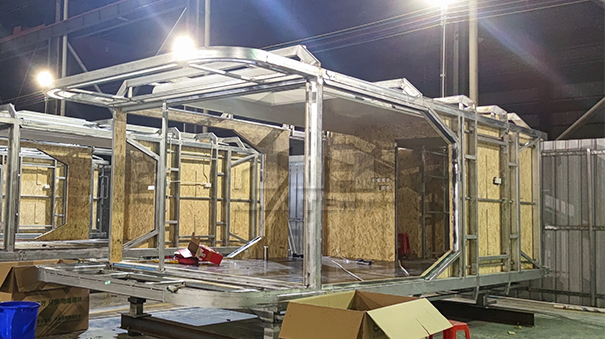 Prefab House Structure
The prefab house is composed of hot-dip galvanized steel, aluminum plate, and tempered glass, the structure is stable. The prefab house weight is 9 tons and can withstand stormy weather. The lifespan of the prefab house can reach more than 30 years, The prefab house is safe.
Prefab House Usage
Prefab houses can be used for luxury hotels and glamping, and can be installed anywhere. The prefab house has 2 rooms, a bathroom, balcony, it is suitable for family resorts. The prefab house has 270-degree floor-to-ceiling viewing windows on both sides for unobstructed views of the landscape and natural light. And the prefab room is soundproof, don't worry about privacy.
Prefab House Accessory
The utilities, hardware, and decoration are included in the prefab house, and the whole of the prefab house is delivered to clients, so clients don't need to install it, only needs to be placed on the platform, and connect water and electrical sources, which is very convenient. The prefab house is equipped with an intelligent control system, lights, curtains, and skylight can be controlled by mobile phone.
03 MANUFACTURE DATA
RAXTENT has professional designers and engineers, every glass dome house is precisely designed and strictly tested to ensure the high quality and performance of the glass dome house.
04 CUSTOMER RECOMMEND
RAXTENT has been operating in the tent industry for more than 10 years, we have a professional team, providing professional product design, manufacturing production, sales, installation and other one-stop services. We produce high-quality tent products and serve every client with heart. Welcome to sending inquiries to us.
Customer Recommend
This prefab house is so cool and full of technology, I can control the house just need a moblie phone. I am so excited.
I recommmend RAX TENT!